I made these cute little guys awhile back just using scrap supplies. It's fun to work with different yarn. I'm known to take other people's scrap yarn and supplies. Not a great thing to continue doing when trying to declutter but these are at least useful things. I'm all for free!
Any small amount of yarn, thread or fabric can be used for something like noses and mouths. I actually have a lot of old thread that I thought about tossing because I had nothing to match it with. I'm letting those limitations go and just using whatever I have. Being too exact can get boring.
I plan to mix more colors when I have the chance to splurge on tons of new yarn! I feel like I'm the worst at choosing colors on my own especially mixing odd combinations together. I've seen many pretty granny squares on instagram and never would have paired some colors like that.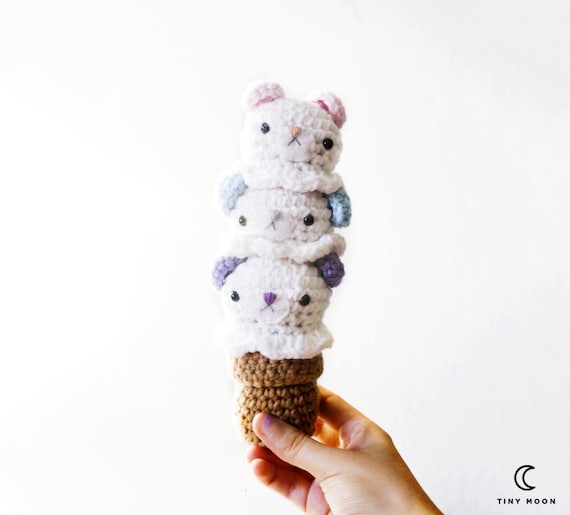 These tiny bears inspired me to draw a
triple scoop
version. I must have shared this already but it's always cool to pop up again. My drawing had panda bears in it! I didn't have any felt to use and stores don't have much options for pastel colors. :( I kind of want to make an octopus one after seeing this. Remove the ears and it'll be awesome, right?
I was given these two colors last year and couldn't figure out what to use it for. I am loving the soft texture. I'm assuming this has to be baby yarn? It's probably overdone but I'm leaning towards making a bear or at least some other furry animal! Furry bear ice cream.. even though anything furry in food sounds pretty gross haha