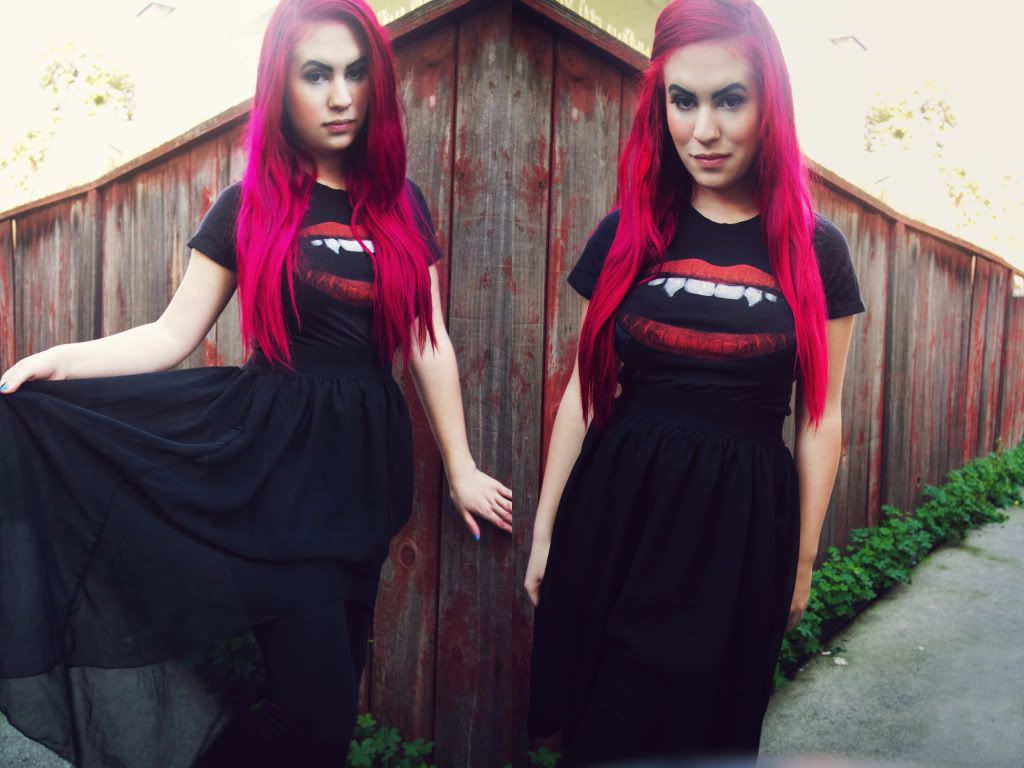 Shirt: Hot Topic
Skirt: Ebay
Leggings: Forever21
Boots: Dresslink
This is one of my True Blood shirts. It's one of my favorite shows! Don't say anything because I'm behind on it haha. Has anyone read The Southern Vampire Mysteries? I have some books I want to read but don't have enough free time for it.
I buy a bunch of my clothes off of eBay and received a coupon for Dresslink.com in one of my packages. Two weeks ago I needed some cheering up and what's better than some online shopping for some new cheap boots?! I paid about $7 for those and it feels really comfy for me! :) The boots are back up in the shop for 75% off this time if you're interested in a pair. The sizes are limited and I ordered mine a size up in 8!
I bought my first black pair of boots for around $10 at a thrift store awhile back. The heels on those killed my feet. It's nice to find some decent comfortable boots with a teeny baby heel. Love it!
Have a good Thursday!
It is time for an ultimate guide on how to bleach your hair the safe way! I have been using this method for awhile now. Feel free to ask me questions afterwards.
Feel free to pin!
1 \ 2 \ 3 \ 4\ 5 \ 6 \ 7
I personally always do a bleach bath whether it's lightly stripping out color or going full on bleach. I mix clarifying shampoo into the bleach bowl and use coconut oil for extra protection. I don't use exact measurements since I've done this often, I just eye it and go. There are measurements on the box/instructions. The bleach mixture should be creamy because if it's too watery, there's a good chance the job will come out uneven.
COCONUT OIL
It's recommended that you use organic kind but that will be over $10 generally. I have used a regular jar from an Indian market for $3 and it works just the same.
BLEACH
I have used Prism Lites (blue powder), Clairol Basic White and Loreal Quick Blue.

**Do not leave bleach on longer than 60 minutes. **





# VOLUME?


I would only use 40 volume developer if you know your hair is extremely stubborn to lift and it's virgin hair. Otherwise use 30 or 20 volume. The coconut oil speeds up the lightening process so you may need to save your roots for last. (Especially if you use Loreal's Quick Blue bleach powder.)
IT'S IMPORTANT TO WAIT
You may need to do another bleach bath depending on your hair condition and what color you are going for. PLEASE wait at least a week before attempting another bleach bath.

TREATMENT AFTER
Coconut oil protects your hair to a certain extent. It's still way better than bleaching by itself. You will still need to treat your hair nicely and condition it. Use a protein packet treatment, argan oil treatment or Aussie 3 Minute Miracle for a good "quick fix".
Do you plan to dye your hair right after?
This is very important: You must shampoo your hair at least two times to remove the oil. Your hair will feel dry/gross but do not use conditioner. Hair dye doesn't take well to conditioned hair so dry it and see if there's any oil left. You can definitely mix veggie dyes & conditioner together.
Going blonde or need another bleach bath?
Conditioning treatments or a protein packet. You can also apply more coconut oil as a hair mask.
VEGGIE DYES
These are RAW, Special Effects, Punky, Manic Panic, Ion Brights (only) etc.

Your hair shouldn't have any oil residue leftover. If you shampooed it out 100% then you need to airdry or blowdry your hair 100% bone dry. If you are not sure: wait a day, shampoo again and dry it. These dyes will condition your hair. I recommend leaving these dyes in for at least 3-5 hours. Remember, patience! You can wrap it up for the night and wake up + wash to get your soft new hair :)

Ion Brights is a wonderful dye but it's difficult to apply by itself so mix in tons of conditioner! You can save money this way.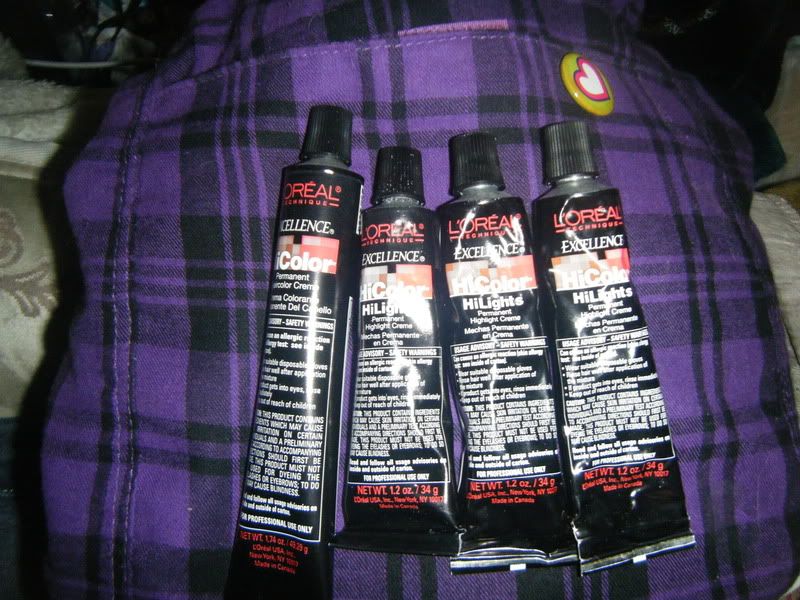 OTHER DYES
Loreal hicolor, Loreal hilift (for dark hair only), Ion Color, Clairol, etc.

These dyes require that you mix volume developer with it. These are the dyes that usually say only leave it for 25 minutes or one hour. Guess what? You can use coconut oil method for these dyes. Apply the oil, wait at least one hour then apply the dye mixture right on top of it. Process for the recommended time based on the dye you bought. Usually the time is either on the box or in the instructions.

Generally don't double process your hair. If you bleached your hair and your dye requires developer to be mixed in, be on the safe side and wait at least a week.
BLEACHING TO BLONDE

Use a blue toner for orange.
Use a purple toner for yellow.

People recommend Shimmer Lights shampoo to tone down brassiness.
It's been 16 months of having purple/blue hair. Every couple of months I kept thinking about changing it to a normal color by the new year. Part of me wants to grow out my hair and the other part is too scared of normal. Red surprisingly feels natural for me.
THE LIST
Ion Brilliance Brights in Red
This large tube of dye is under $5. It's super thick so adding conditioner makes it much creamier to apply and it also dilutes it so you're able to use less! It smelled good and barely stained my skin. Huge plus. It's very bright.
Does anyone else with bright hair try to avoid wearing colors that are close to your hair colors? I've had dyed hair for almost two years and even though I was only red in the very beginning, still have the habit of avoiding red.
HAPPY FRIDAY!