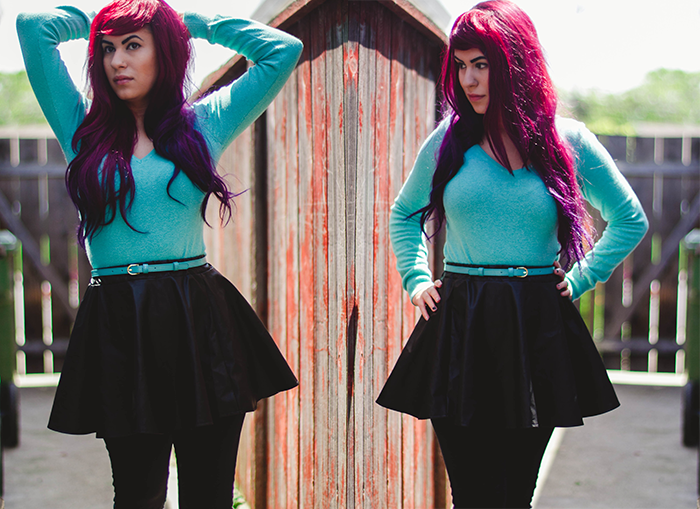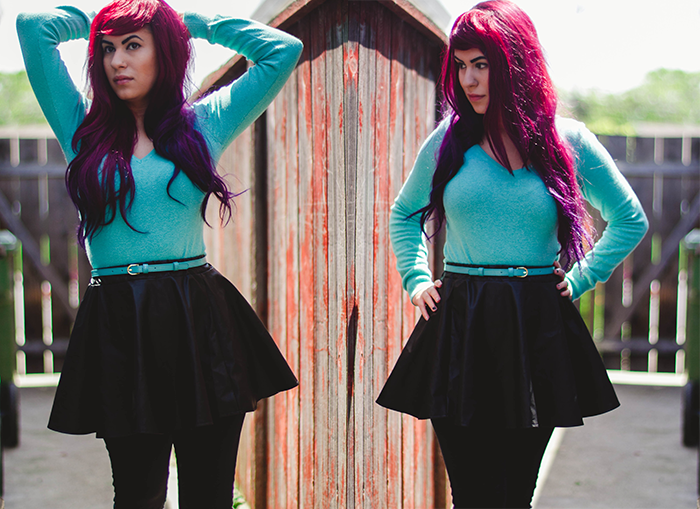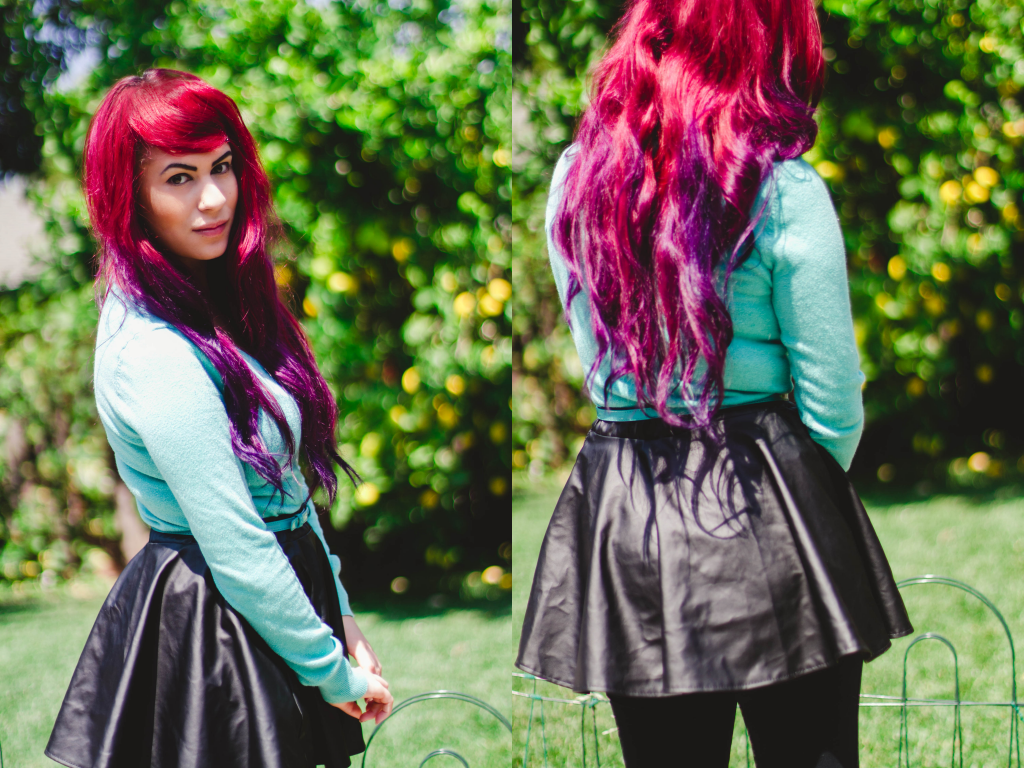 Sweater: Thrifted, H&M // Skirt: eBay // Belt: Forever21 // Leggings: Thrifted // Bangs: Damnation Hair
It's only been four months and I've changed my hair color FIVE times. Why is it impossible to stop? I actually would love to do a red & blonde ombre but I'm steering clear of bleach for as long as possible. I had a nearly full bottle of blue dye leftover so this is my temporary ombre! I'm hoping this settles my impulsiveness haha.
I have wanted a skirt like this for months but only at the right price. I thought I could probably find one for under ten bucks.... AND IT HAPPENED!! Now I just need a fake
leather jacket
. Busty ladies can wear those, right? That's what is stopping me from getting one.
Happy Thursday ♥
You will need white paper and natural light preferably near a window. :)
I placed paper down on my bed and stacked a couple of sheets against the wall then put the amigurumi in place. I took these photos around noon when the sun hits my window. I am using a 50mm lens at low f-stop and low ISO since it was bright. Bump up the ISO depending on your lighting condition.
If you have a continuous mode, use it!
Canon 7D & 50mm 1.4.
Settings: f/2, 1/80, ISO 100
Editing
1)
Crop out any distracting edges. If you have any lines you can select the
brush tool
& hold down
CTRL
to sample a color to paint over. That doesn't need to be perfect since we'll be brightening up the background next.
2)
Merge down. Duplicate your layer. Go to
Image> Adjustments> Brightness/Contrast
and bump up the
Brightness 50+
. There we go! If your amigurumi is too bright, select a layer mask and use a black brush to paint it back.
3)
If you feel that your amigurumi is too dark now, you can select a white brush and adjust the brush opacity settings to around 50%. Paint over your amigurumi to brighten it up.
OPTIONAL: Sharpening your image.

1)
Go to
Filter> Sharpen> Unsharp Mask
and find the settings to fit your image.
Now it's complete! I save the high resolutions then afterwards resize at 700px as png's for posting on the web.
Before & After Comparison:
How to remove those random fuzzies or hair for close-ups:
1)
Duplicate your layer. Select the
healing brush tool
at a small size. Select a nearby area by holding down CTRL and clicking.
2)
Paint over it! Usually, this works. Sometimes you'll need to use the clone stamp tool.
That's it!
You don't need a super expensive camera to do this. ♥ Just white space and good lighting.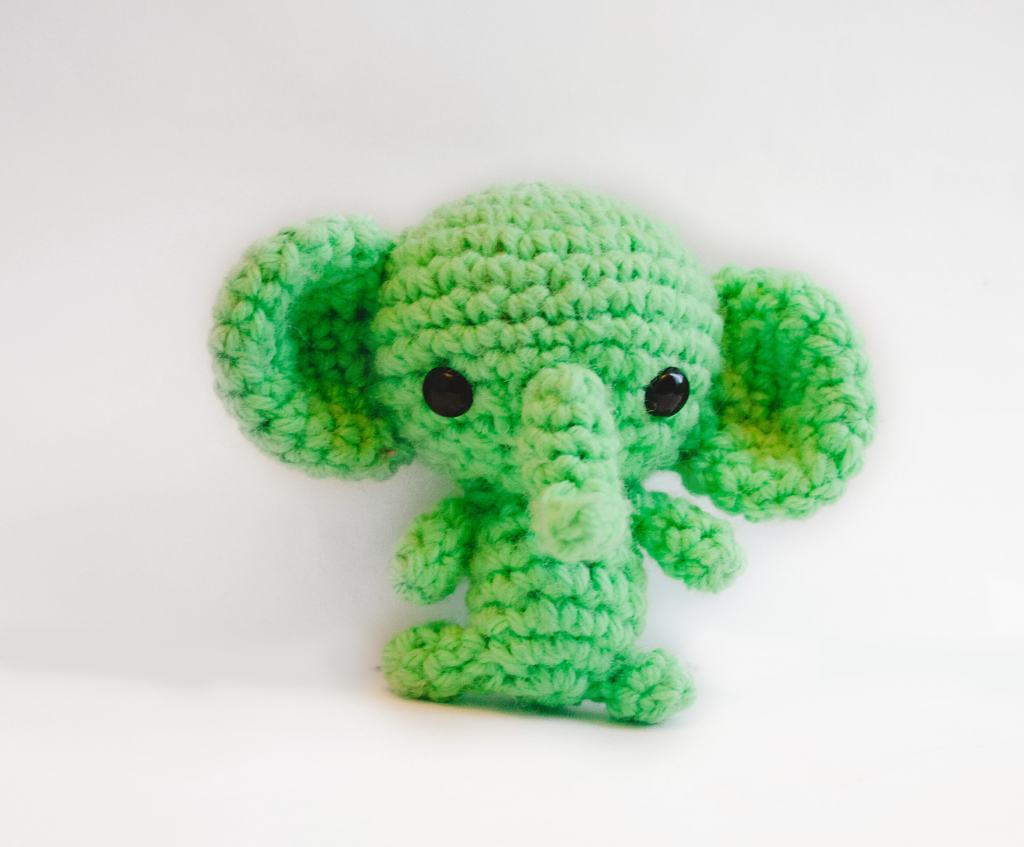 Canon Rebel XS & 15-55mm,
Settings: f/5, 1/40, ISO 400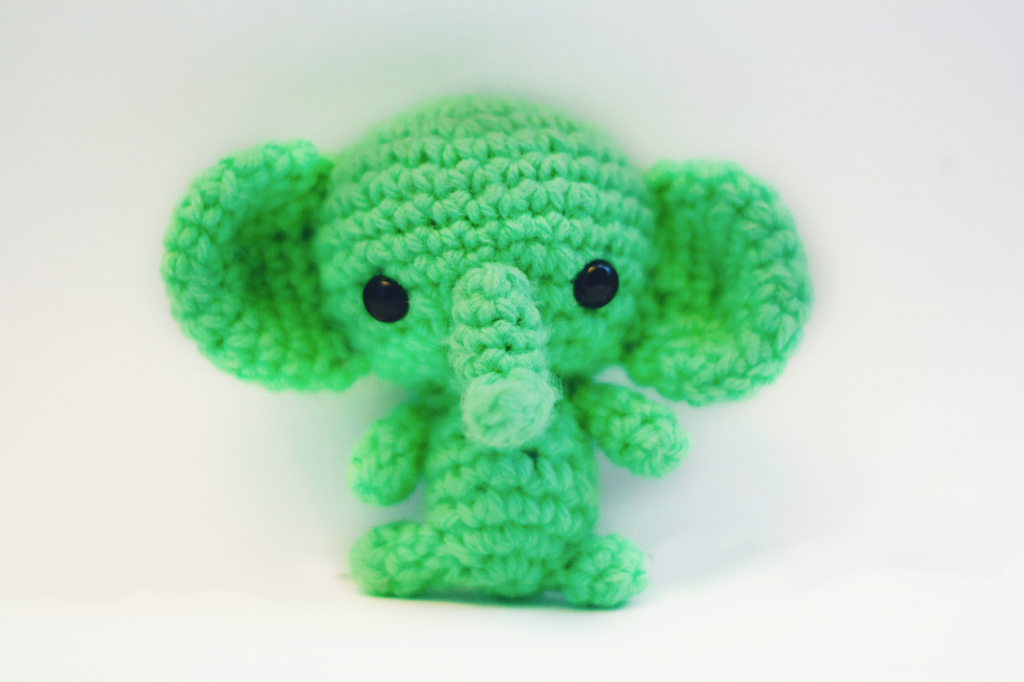 Canon Rebel XS & 50mm 1.8,
Settings: f/1.8, 1/200, ISO 400
Samsung Galaxy S3 + Front camera.
Settings: f/2.6, 1/68, ISO 80
Happy Wednesday
Wig: eBay // Dress: Forever21 // Leggings: GoWithGalaxy // Boots: Doc Martens // Plugs: Plug Club
My newest addition to my slowly growing wig collection. It's shiny but it doesn't matter to me. I missed
blue hair
and this is so perfect! I'm in love with this color and how soft it is. I thought I couldn't get away with fooling people with this one but it had worked.
I never thought of using a foam board as a backdrop. Might be fun to do a couple of lookbook style shoots this way. These are test shoots. I'm surprised how bright these came out to be in such a dim room! I finally ordered a wireless remote the other day. Don't know what took me so long! I'm hoping it arrives this month.
Eevee decided to
sit
model with me in a couple of shots. Such a cute calm puppy.. for once!