It's been about 6 months since my skin has been mostly under control. I wanted to share a list of my favorite products to help fight fungal acne. Sulfer and Nizoral weren't the best choices for me. My routine has changed and I've tried a bunch of new products.
Moisturizers:
Hada Labo Premium Lotion
Hada Labo Gel Cream
COSRX Advanced Snail 92 All in one cream
Occlusive:
Cerave Healing Ointment
EltaMD Intense Moisturizer
Cleansers:
Vanicream Facial Cleanser
Happy Cappy Medicated Shampoo
Eye Makeup Remover:
Swan Mineral Oil

Body Wash/Shampoo/Face Mask:
Happy Cappy Medicated Shampoo
Head & Shoulders shampoo
Selsun Blue shampoo

Conditioner:
Pantene Pro-V Daily Moisture Renewal Conditioner (*contains fatty alcohols)
Sunscreens:
DRMTGLY Broad Spectrum 45
DRMTGLY Universal Tinted Moisturizer SPF 46
Cotz Face Natural Skin Tone SPF 40
EltaMD UV Clear SPF 46
Note: EltaMD clear is safe and the tinted sunscreen is NOT safe. A tinted dupe is supposedly DRMTGLY Anti Aging Tinted Moisturizer SPF 46.

Retinol:
Retino A 0.025% (Tretinoin, not FA safe)
Differin
Retinol Routine:
First 6 months, starting with Differin-
At night, I would wet my face, apply Hada Labo Premium Lotion all over and use Cerave Healing Ointment under my eyes, sides of the nose, and sides of the mouth. Apply a dime-size amount of Differin immediately. Optional: applying moisturizer before bed. I used Differin twice a week.
Tretinoin-
Same application but wait for the moisturizer to dry for at least 30 minutes then apply a pea to a dime-sized amount of Tret. Wait at least an hour or before bed, reapply moisturizer and a layer of Cerave Healing Ointment on top.
Apply sunscreen in the morning and reapply if necessary.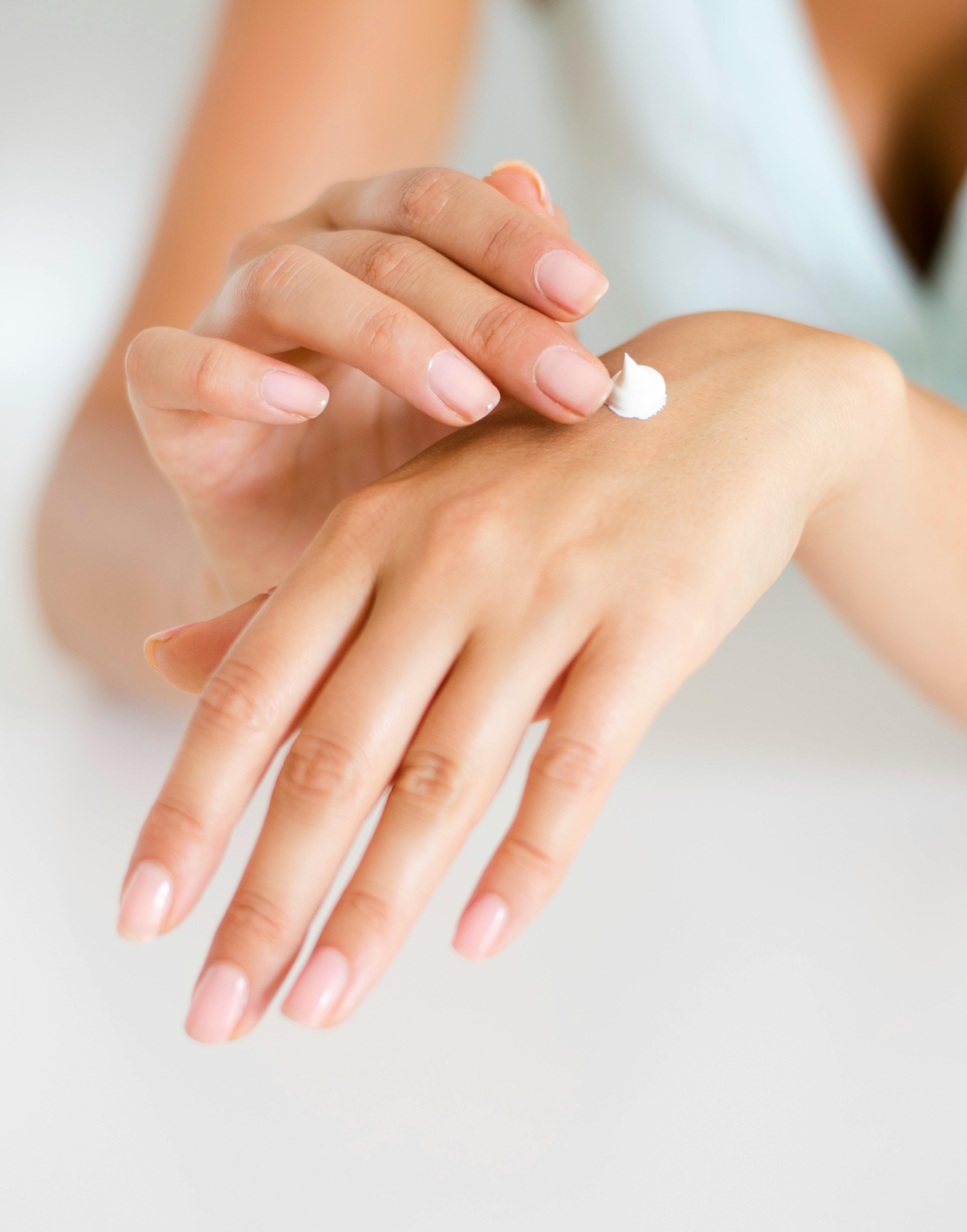 Now:
I try to use Differin daily and throw in 1-2 days a week of just Tret. I'm using a nonsafe Tret for anti-aging purposes. If I got a purge or breakout then Differin takes care of it. I'm still in my first year of Tret and I'm working my way up to being able to use the safe product: A-Ret Gel 0.1%
Note: Retinol usage and results will vary.
Decrease the number of days if you experience any discomfort or burning. Apply water, moisturizer, and healing ointment on dry areas. Heal first before using it again.
I developed Angular cheilitis at both sides of my mouth. It looked like a patch of dryness. I treated it by applying Monistat 7 twice a day. It went away in a week or so. You can use Monistat 7 or any other anti-fungal cream to treat this dryness. Discontinue use after it's gone. This is also something I've used to stop fungal acne outbreaks from further spreading (like the bad case on my ear lobe). I don't recommend this as a daily treatment.
Shower Routine:
I apply shampoo to my dry skin on my problem areas: face, neck, and chest as a 5-minute mask. I also apply it to my scalp and upper shoulders as a 'barrier'. I apply conditioner and try to keep it off my neck/shoulders until I rinse.
Diet
I briefly considered going on the candida diet but it's really restricting and not sustainable. I always thought dairy was a trigger for me but after reintroducing that into my diet- I had no noticeable reaction. It turns out gluten makes me break out the most. A day of pizza really helped me pinpoint it and any time I ever had beer had caused breakouts. Cutting back on that has helped keep my skin clear.
Recently I have been taking
Nutrition Now Pb8 Acidophilus
capsules. I'm wondering if it will fix my gut and help get rid of it. There's not much information online about it. I'll update if I notice any changes.

Fungal acne safe sunscreens for darker skin tones with supposedly no white cast*:

DRMTGLY Broad Spectrum 45
Cotz Face Natural Skin Tone SPF 40
EltaMD UV Clear SPF 46
Robot Skin Lab Gokujun UV White Gel (or Hada Labo UV White Gel)
Nivea - Sun Protect Super Water Gel SPF 50 PA+++
Missha - All Around Safe Block Essence Sun Milk- (GREEN CAP ONLY)
*These were recommendations I found throughout reddit


DISCLAIMER~

As always!! I'm a regular person, not a dermatologist. I went on the Simple Skincare Science blog to learn about fungal acne and chose products from the massive list. You can ask me questions about any of the products I've used but anything else that's not listed...I'm not knowledgeable about it. I also can't tell you if what you have is fungal because bumps are bumps. The ONLY way you can figure out if it's fungal is by eliminating products and only using FA safe products.
Related Posts:
I had "fungal acne" for 2 years before knowing what it was and how to treat it. Last year, I shared my experiences in 2 parts:
Fungal Acne Skin
and
Fungal Acne Products
. It's been over a year since and I still use some of the products! I decided to look into retinol because I'm in my late 20's now. I wanted to see if that would help with FA too.
I no longer get bad breakouts especially on my neck, back, or chest. I can't completely avoid that because it thrives off the humidity and sweat.
Differin
I used it every 3 days for the first month. I wet my skin, applied Hada Labo premium lotion and Cerave Healing ointment to the thin areas (corner of eyes, sides of nostrils, and corners of lips). I applied Differin immediately on top. I would apply moisturizer either the same lotion or Hada Labo Gel cream plus a light layer of Cerave healing ointment over it before bed.
I was shocked at how well behaved my skin became. There was a small purge for me but it was nothing terrible. My skin was tolerating it fine. No dry patches or peeling. I eventually stopped applying the extra moisturizers afterward. I still use a buffer before applying it.
Differin Purging
I noticed a difference with texture as soon as 2 weeks. Very soft, smooth, and glowing. Scars were fading faster than usual. I never kept up a skincare routine before. It made me realize how dull and dry my skin was.
Differin results at 2 weeks
Like I mentioned earlier, my skin was tolerating this very well and I started using it every 2 days. I've heard many stories on Reddit about the dryness and peeling. I eventually stumbled upon Tretinoin. I was interested in trying something for anti-aging purposes. So... I'm actually using both right now.
Tretinon at 0.025%
This is really strong so the routine is different. I wet my skin, use my Hada Labo Premium Lotion and Cerve Healing Ointment on the thin areas. I let this dry completely in about 30 minutes. I apply a very small amount of Tret then wait 30 minutes up to an hour before applying my layers of moisturizers. It really depends if I'm going to bed soon. You can't skip the moisturizers at the end. I've accidentally used a little more than a pea-size amount and became a peeling lizard for 1-2 days.
Clear skin who dis
I've been using retinol for almost 4 months now. 5-6 weeks were just Differin then the rest have been Differin and Tret. I split it up across the week. At least one day in between each application. I do Differin, Tret then back to Differin.
It's obviously not a cure but my skin has become a lot more manageable. I'm careful with the products I use on my skin now. I have more clear skin days than anything else. I still get breakouts occasionally because of the humidity/sweat issue but one application of retinol takes care of it.
Before & After